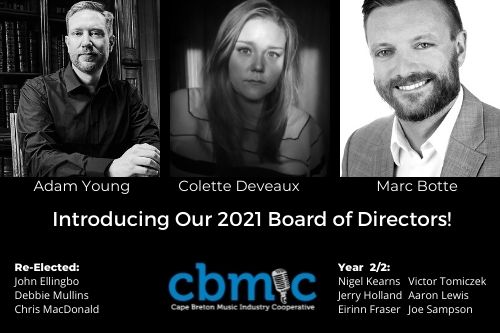 Announcing the CBMIC 2021 Board of Directors
Posted on: July 7, 2021
---
Say hello to our 2021 Board of Directors!
On Tuesday, July 6th, members of the Cape Breton Music Industry Cooperative elected (3) new board members and re-elected (3) re-offering members. These (6) positions, along with the (6) members in the second of a two year term make up the (12) seats on our 2021 Board of Directors:
Newly elected:
Marc Botte
Colette Deveaux
Adam Young
Re-elected:
John Ellingbo
Debbie Mullins
Chris MacDonald
Incumbent (2nd of 2 yr term):
Nigel Kearns
Jerry Holland
Eirinn Fraser
Aaron Lewis
Victor Tomiczek
Joe Sampson
We'd like to thank all nominees who put their name forward or accepted a nomination, including Veronica Merryfield, Dylan Devoe, Ian MacDougall, and Angela Iannetti. CBMIC is always leaning on experienced and knowledgeable members of the community for their insight and seeking passionate people to join our committees. We encourage anyone with the desire to stay in touch and contribute to our organization in anyway they feel they can.
We would also like to extend a heartfelt thank you to our previous board members who are moving on: Candee McCarthy, John Aylward, and Roberta Head. We are grateful for your contributions to our organization and know you will continue to support and grow our Cape Breton music industry from wherever you are!
Introducing our newest board members:
Marc Botte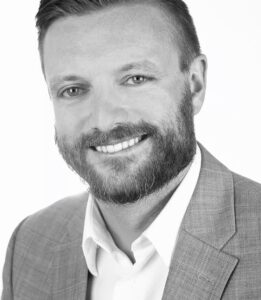 Marc Botte was born and raised in Cape Breton. After attending Glace Bay High School, Marc attended Cape Breton University where he was involved in student government and student advocacy.
Marc and his then girlfriend, Sharon, facing a lack of opportunity in their respective fields moved to Halifax in 2009. Despite pursuing successful careers in the city, they both decided that Cape Breton was home and it was where they wanted to start a family. Now married, Marc and Sharon moved home in 2013 determined to create their own opportunities.
Upon returning to Cape Breton, Marc started his own marketing company in order to support his family which now includes their young son, Avery. Quickly, that company merged with 902 Advertising Group with Marc becoming partner along with Keith Buckland and Shaun Stevens. From humble beginnings, 902 Advertising Group has grown to become one of the leading marketing firms on the island with two spin-off companies and 9 employees. They have been active in the local business community as well as supportive of numerous charitable organizations including but not limited to the Children's Wish Foundation, The Cape Breton Regional Hospital Foundation, Hospice Palliative Care, The United Way of Cape Breton, Families for Families Toy Drive, Loaves and Fishes, and the Cape Breton Music Industry Cooperative. With 902 Advertising Group, Marc has helped many aspiring entrepreneurs create their own opportunities by providing support and guidance in launching and growing their own businesses.
Blending on a background in marketing, technology and financial services, Marc is passionate about growing opportunities on Cape Breton Island, building a robust local economy and attracting large national events to the community. Serving on bid committees for the 2019 Scotties Tournament of Hearts, 2021 National Boxing Championships, and the 2021 Hockey Canada Telus Cup Tournament, Marc has lent his expertise to attracting events that provide millions of dollars of spin-off opportunity.
Marc has worked extensively with CBMIC to help organize and promote the first Open Doors Women in Music Series, the CBMIC Songwriter Series, numerous CBMIC fundraisers, as well as assisting with government relations and advocacy.
Adam Young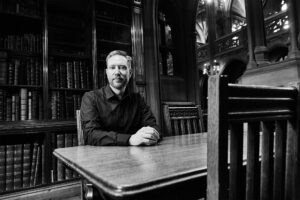 For the past two decades, Adam Young has been bringing his particular style of Cape Breton piano accompaniment to audiences around the world. Deeply rooted within the fiddle and bagpipe music tradition of the Island's Scottish settlers, the Cape Breton piano style has evolved over the past century, incorporating subtle elements of jazz and popular music, while still maintaining that unique "Cape Breton" sound. Adam's music continues that stylistic evolution with his new album, Yearbook, release in June of 2021.
Prior to this project, Adam was primarily known as an accompanist. His first foray into another territory occurred when he created and directed the Louisbourg Playhouse's popular music and comedy revue, Cape Breton Lyrics & Laughter, which has seen close to 400 performances since it began in 2002, and has become Nova Scotia's longest running musical comedy revue. He still plays regularly (in non-pandemic times…) and has showcased his talents across Canada, the United States, the United Kingdom and Australia.
In addition to this latest recording and the publishing of its companion, Tunebook, Adam can be heard on recordings with Dara Smith-MacDonald and Colin Grant, Cape Breton Lyrics & Laughter, Eric Angus Whyte, Jason MacDonald, Marilyn MacDonald-MacKinnon, and the Scottish/Austrian fiddle and bagpipe duo Jamie MacDonald and Christian Gamauf.
Adam has volunteered on the board of directors for several local boards and organizations, including the Cape Breton NextGen Leadership Society, Two Rivers Wildlife Park, and the Marion Bridge Community Council. He has been nominated for two East Coast Music Awards (with Cape Breton Lyrics & Laughter and Dara Smith-MacDonald), and two Music Nova Scotia Awards (both with Dara Smith-MacDonald). He is the recipient of a 2019 Cape Breton Unama'ki Excellence Award for his volunteerism and contributions to Cape Breton culture.
Colette Deveaux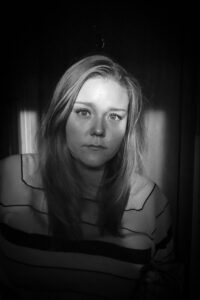 Colette Deveaux is a singer-songwriter from Sydney who's been making music around Cape Breton Island and the Maritimes for the past twelve years. In 2019, along with fellow singer songwriter Molly Babin, Colette co-founded 'Open doors; Cape Breton Women In Harmony' which is an initiative that aims to cultivate safer spaces for women to succeed within the local music scene. Colette is an active performer on the Cape Breton music scene, and when she is not performing you can catch her at another artist's show. An avid supporter of the local community, she is a voice for here fellow musicians and a role model for up and coming artists. As a queer identifying women whose been actively pursuing a career in the music industry for the past decade or so, Colette hopes to bring a unique perspective and experience to the board.
Congratulations to the new members and thank you again to all who participated as a nominee or by casting a vote!
– The CBMIC Team