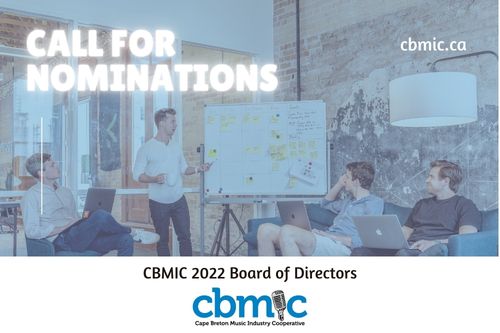 Call for Nominations: CBMIC 2023 Board of Directors (Open Nominations Have Now Ended)
Posted on: June 20, 2023
---
The call for Nominations for the 2023 Cape Breton Music Industry Cooperative is now open!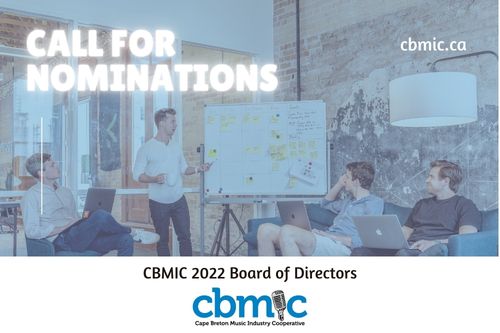 2023 AGM CALL FOR NOMINATIONS
CBMIC is holding its annual election for its board of directors. There are (6) incumbents and (6) members re-offering, resulting in (6) positions open to fill.
CBMIC members are encouraged to nominate anyone who they believe would be a valuable candidate for the CBMIC board of directors. We also invite anyone who is interested and thinks they can contribute positively to our organization to put their name forward for nomination.
CBMIC strives for Board diversity and island-wide inclusion. Any nomination submissions can be e-mailed to admin@cbmic.ca
*Please include nominees first and last name and contact information including phone number and e-mail address.
Nominations are open as of Thursday, June 20th, 2023 and will close on Monday, July 3rd, 2023 at 5:00 pm ATL.
In each case, contact will be made with each nominee to ensure that we have the permission of the nominee to let their name stand.
For non-sitting member to be eligible for consideration, a candidate must meet the following qualifications:
Be a CBMIC support member (you may become a member by signing up here https://cbmic.ca/
Have sufficient time to devote to doing the board's work
Believe in the mission, vision, and work of the Cooperative
Comprehend and accept the fiduciary duties and responsibilities associated with the actions of the Cooperative
Understand the job of a board member. See the information below.
Possess the skills needed by the Cooperative. Qualifications include but are not limited to team building, communication and social, governing, leadership, planning and recruitment.
*CBMIC Board of Director position is a two (2) year term.
A nominee must submit a bio and a head shot photo for the voting poll.
Board Member Role Description
Individually, each board member must:
Act in the best interests of the organization
Understand the roles and responsibilities of being a board member
Be familiar with the organization's bylaws, policies and procedures, strategic plan, mission, etc.
Ensure he/she avoids conflicts of interest including operating in the best interest of the organization, not in self-interest or the interest of a stakeholder group
Respect confidentiality policies that pertain to membership and board discussions
Keep informed about the organization's financial activity and legal obligations
Bring their own skills, experience and knowledge to the organization
Attend board meetings regularly and arrive prepared for meetings
Support board decisions once they have been voted on
Ideally, when joining a board (or perhaps before deciding to join), one should learn the:
Governing structure the organization operates under
Roles, responsibilities, and functions of the board within the governing structure
Job description for board members
Measurement and standard by which board members are evaluated
While the level and detail may vary from board to board, overall, effective board members are continuously:
Governing
Leading
Recruiting
Supporting
Planning
CBMIC Board Governance Manual is available by request. Contact info@cbmic.ca
VOTING
Voting will be open online at https://cbmic.ca on Thursday, July 12th, 2023
The nominee list for voting will be posted online on the CBMIC webpage on Thursday, July 6th 2023. All CBMIC board and cooperative members will be able to place their vote for their nominee of choice on the CBMIC website up until Monday, July 14th at 5:00 pm AT. The results of the online election will be reviewed and announced at the AGM on Tuesday, July 18th, 2023
AGM Agenda Considerations:
Minutes of preceding general meeting
Consideration of the annual report of the Directors
Consideration of the financial statements, including balance sheet and operating statement
Election of Directors for the ensuing year
Appointment of Executive
NOTE: Once the newly elected board members are confirmed, the official 2022 Board and their positions will be announced and will be posted on the CBMIC web page www.cbmic.ca and CBMIC Facebook page.
PROJECTED TIMELINE
Call for Nominations: Thursday, June 20th, 2023
Nominations Close: Monday, July 3rd, 2023 at 5:00 pm AT
Candidates Notified: Wednesday, July 5th 2023
Deadline for Candidates Right to Withdraw: Tuesday, July 11th, 2023
Voting Opens: Thursday, July 12th, 2023
Voting Closes: Monday, July 24th, 2023 at 5:00 pm AT
AGM Meeting: Tuesday. July 25th, 2023 7:00 pm AT
New Board of Directors announced: Thursday. July 27th, 2023
For more information contact:
Duane Nardocchio
(902) 577-2547
Info@cbmic.ca