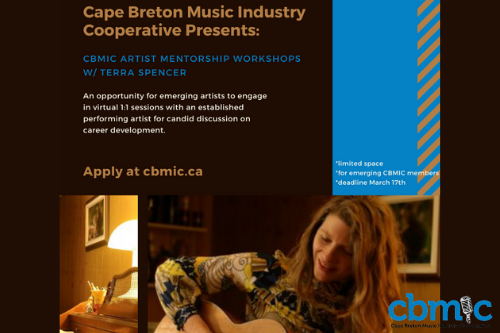 CBMIC Artist Mentorship Workshop
Posted on: March 10, 2021
---
The Cape Breton Music Industry Cooperative is proud to present the "CBMIC Artist Mentorship Workshop" with singer-songwriter, recording and performing artist Terra Spencer.
About this workshop:
The CBMIC Artist Mentorship Workshop is an opportunity for emerging Cape Breton artists to connect with an established artist in a no-pressure format.
Selected members will be connected with artist Terra Spencer to schedule three personal 1:1 sessions on a virtual platform (i.e. Zoom) to discuss various elements of the artist journey and help define the next steps in your unique career path.
The meetings will focus around open discussions on where you currently stand as an artist, where you would like to go, and potential approaches to reach your goals.
Deadline is March 17th.
APPLY NOW by logging into your CBMIC account and visiting cbmic.ca/member-benefits. If you are not a CBMIC member, you can sign-up as an emerging artist now at cbmic.ca/membership.
Please don't hesitate to contact admin@cbmic.ca with any questions.
About Terra:
Nova Scotian funeral director-turned-songwriter Terra Spencer discovered her passion for crafting songs while touring with country artist Ryan Cook, after being recruited as a backup singer in 2014 while scooping ice cream at a music festival. Since making her solo debut in 2018, she has charmed audiences in the Maritimes, Ontario, the UK, and Europe with deft fingerstyle guitar, gospel piano, butterscotch voice, and easy onstage conversation, making you feel knee-to-knee with her even in a room of 500.
Her knack for telling intimate stories with heart and humour has caught the attention of Canadian musical mentors like David Francey and Ron Sexsmith, and she has become a sought-after studio vocalist and co-writer, leading a successful series of Words & Noise songwriting workshops in person and online. Terra's debut recording Other People's Lives was nominated for 2019 Music NS Americana Album of the Year, and she was selected by Dave Gunning to receive an Emerging Artist grant from the National Arts Centre in 2020.
Her newly-released followup Chasing Rabbits, recorded at Sonic Temple in Halifax during quarantine, is a collection of very personal songs about home life and wildlife, leaving and longing, and the meaning of home. Set against the backdrop of the Canadian winter, the album features some of Nova Scotia's best players including The Bombadils and Bela Strings, with Terra in the producer's seat. Chasing Rabbits has received international airplay and quickly claimed spots on numerous lists from critics, DJs, and listeners of the Best Albums of 2020.