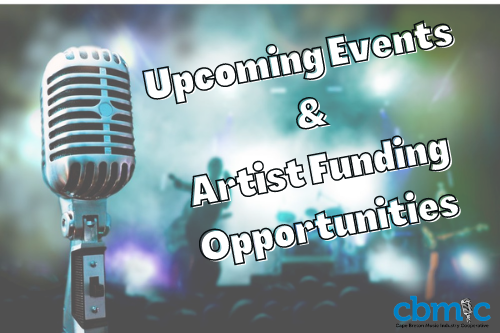 Events, & Funding, & Education, OH MY!
Posted on: September 24, 2020
---
Hello members!
Well, things are starting to get a little more active around here, slowly but surely. We have some events in the works, funding opportunities for artists from both Music NS and FACTOR, and some upcoming funding opportunities through CBMIC.
Let's jump right into it shall we?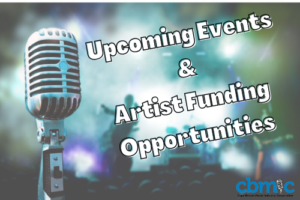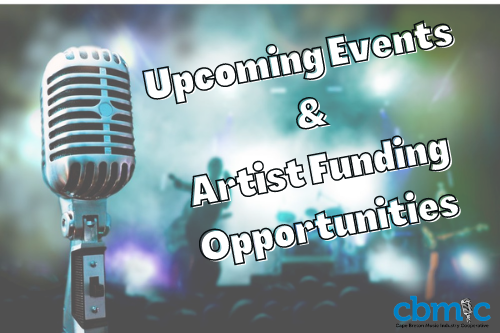 EVENTS
The Music Island CB Songwriter's Series
This Thursday evening we will be announcing a 5-week songwriter's series hosted by Governor's Pub and Eatery as a CBMIC fundraiser. Every Thursday, starting Oct 1st, we will be featuring three Cape Breton songwriters, performing and live streaming from upstairs in the pub. Follow us on Facebook for the line-up to be confirmed early next week.
Celtic Colours at Home
Faced with current restrictions on travel and large gatherings, Celtic Colours International Festival will be doing things differently this year. Instead of hosting concerts all over Cape Breton Island this October, Celtic Colours International Festival at Home will present a nightly series of concerts streamed live from the Membertou Trade and Convention Centre, October 9-17.
Produced in partnership with NovaStream and Soundpark Studios, these concerts will feature a mix of live and pre-recorded performances by artists from Cape Breton, Nova Scotia, PEI, Quebec, Ontario, Scotland, Ireland, and the Isle of Man
Each night's concert will start at 7:30PM ADT, following a 30-minute pre-show highlighting the Festival's community partners and Cape Breton Island's breathtaking scenery. The concerts will be available to view until the end of October.
You can view the full line-up and tune in to the concerts through the Celtic Colours website, celtic-colours.com. The concerts will also be streamed on YouTube.
FUNDING
Hey artists, now would be a good time to have some extra money roll in wouldn't it? Good news, both Music Nova Scotia and FACTOR have some cash to spend.
Music Nova Scotia Artist Development Program
This year there is a special one time only deadline for the Artist Development Program:
October 15th, 2020
This deadline is available to any Artist (not rated Artist II or III) who didn't apply in 2020 or was unsuccessful in May of 2020.
***Note: this means you must be defined at least as Artist General, having attended a minimum of two basic training sessions. If you don't have any basic training, you can still get similar funding through FACTOR, but get on it this November: https://musicinvestment.ca/basic-training/
For more information and to apply for the Artist Development Program:
https://musicinvestment.ca/investment/music-nova-scotia-investment-program/artist-development/
NOW, HOLD UP — if this sounds overwhelming (because it probably does), Music NS will be hosting three information sessions to help walk applicants through the application process.
These sessions will explain what is required to apply, how to best fill out the written sections of the application, and answer any questions that participants may have.
Sessions are:
September 17 (Thursday) – 6PM

September 28 (Monday) – 2PM

October 6 (Tuesday) – 7PM
Each session is the same although you are welcome to attend more than one if you find that beneficial.
You can now RSVP here – https://podio.com/webforms/25137425/1853110
Please contact Darryl Smith with any questions at darryl@musicnovascotia.ca.
Covid-19 Response
There will be another special deadline on October 15, 2020 for the following:
COVID-19 Response – Artist II

COVID-19 Response – Artist II and Export Ready Companies
More information on these programs is available at musicinvestment.ca.
***Since this years' funding programs have changed, and some are new, it is strongly advised that you set up a meeting (via phone or zoom) with the Investment Program Manager, Darryl Smith, to discuss your project and eligibility.
FACTOR Artist Development Program
DON'T STOP READING YET – maybe you don't have basic training for the above, but you're energetic enough to apply for funding right now. MORE GOOD NEWS –
FACTOR's Artist Development Program has a second deadline for this fiscal year:
November 12th, 2020 5:00 pm EST
The Artist Development Program offers a $2,000 subsidy toward one year of artist development activities including sound recording, touring & showcasing, video production, marketing and promotion. These activities must be detailed in an artist development plan, which is incorporated into the application on the portal.
For more information visit: https://www.factor.ca/programs/artist-development/
EDUCATION
10 Things You Need To Know About Facebook Live and Instagram
ATTENTION ARTISTS!
Wondering how Facebook and Instagram's terms of service affect you?! Attend the Webinar hosted by ECMA with us:
Wednesday, September 30th – 7:00 PM ADT
Register Here: https://social-media-eastcoastmusic.eventbrite.ca
If you have been using content that you do not own the rights to – that means performing covers on live streams or for content, using background music in videos, etc. – you could be penalized by Facebook.
The terms of service are not exactly changing, but they will be more strongly enforced after Oct 1, 2020.
That's all for now. If you have any questions about the above funding opportunities please don't hesitate to contact CBMIC via email or phone, or make an appointment to stop by the office.
Until next time…
– The CBMIC Team