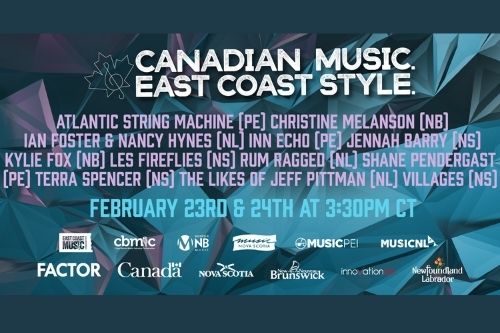 Folk Unlocked
Posted on: February 3, 2021
---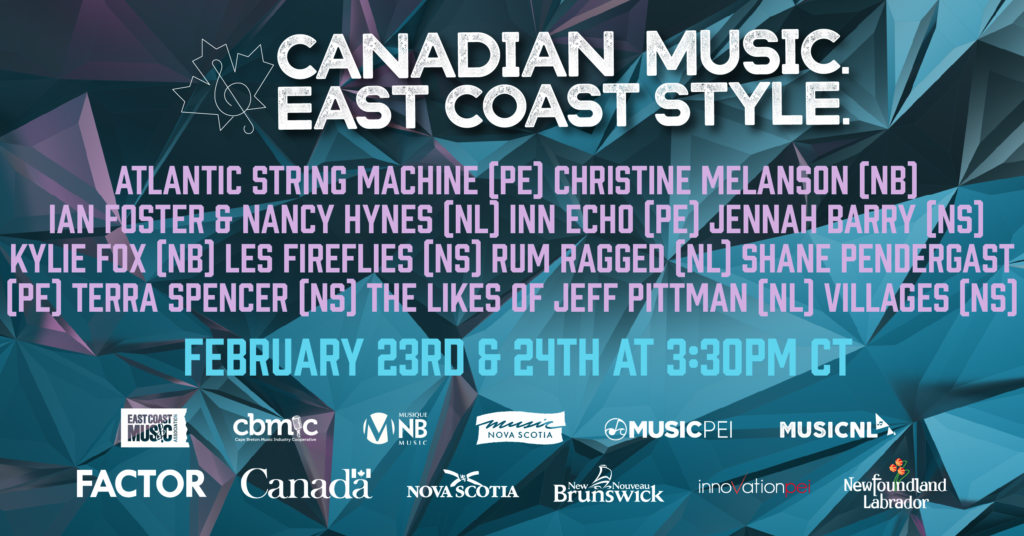 The East Coast Music Association (ECMA), Music/Musique NB, Music Newfoundland and Labrador, Music Nova Scotia, the Cape Breton Music Industry Cooperative (CBMIC), and Music Prince Edward Island are pleased to be presenting the "Canadian Music. East Coast Style." Spotlight Showcase at the 2021 Folk Alliance International "Folk Unlocked" from February 22 – 26.
In place of an in-person conference this year, "Folk Unlocked", will offer a five-day virtual event for the entire international folk community to come together in a series of engaging conference panels, showcases, peer group meetings, networking, and mentorship sessions.
This year, the collective are excited to present two "Canadian Music. East Coast Style." Spotlight Showcases featuring pre-recorded live performances from some of Atlantic Canada's finest emerging talent. Featured artists include, Les Fireflies, Kylie Fox, Christine Melanson (NB), Ian Foster & Nancy Hynes, Jeff Pittman, Rum Ragged (NL), Jennah Barry, Terra Spencer, Villages (NS), Inn Echo, Shane Pendergast and Atlantic String Machine (PE).
The Spotlight Showcases will take place Tuesday, February 23 and Wednesday, February 24 from 3:30 pm – 4:30 pm (CT)/ 5:30 pm – 6:30 pm (EST) – these sets are truly amazing and not to be missed!
Long a source of inspiration for music industry professionals, FAI is providing fan access to the Folk Unlocked showcases with over eight hundred hours of performances from artists from all fifty states in the U.S. and over 30 countries. Programming will be interactive, whether live-streamed or pre-recorded and recordings will be available for later viewing, allowing folks from around the globe to tune in when they can! Access to these showcases will be granted to donors to a newly-launched fund to help folk artists and industry professionals in financial need called The Village Fund. For more information on Folk Unlocked visit https://folk.org.
February 23 – 3:30 pm – 4:30 pm (CT)
Jennah Barry
Inn Echo
Kylie Fox
Ian Foster & Nancy Hynes
Shane Pendergast
Rum Ragged
February 24 – 3:30 pm – 4:30 pm (CT)
Les Fireflies
Terra Spencer
Christine Melanson
Villages
The Likes of Jeff Pittman
Atlantic String Machine
For a full showcasing schedule, visit www.ecma.com.
We would like to acknowledge the financial support of FACTOR, MusicAction, The Government of Canada and of Canada's private radio broadcasters, and the New Brunswick, Nova Scotia, Newfoundland & Labrador, and Prince Edward Island Provincial Governments.