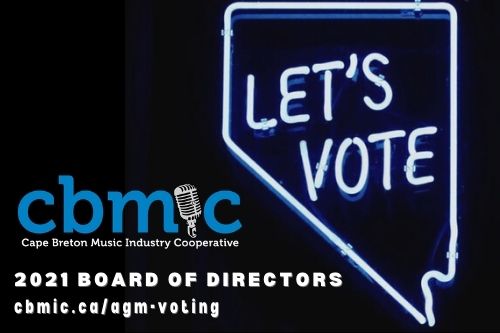 Vote now for the 2021 Board of Directors!
Posted on: June 29, 2021
---
Voting is now open for the 2021 Board of Directors for the Cape Breton Music Industry Cooperative. As a member of CBMIC you have a voice and we want to hear it!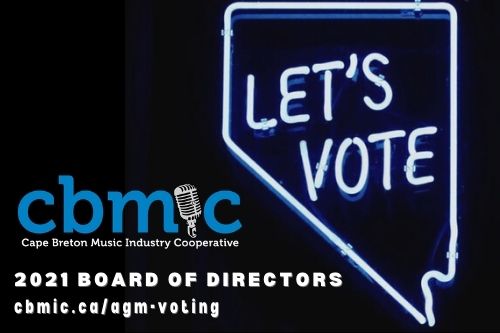 Voting is open from Tuesday, June 29th through Tuesday, July 6th at 5:00 pm AT.
If you are not a CBMIC member or have not renewed your membership, you can sign up here:
http://www.cbmic.ca/membership
Please do not hesitate to reach out to admin@cbmic.ca with any questions about what membership type is best for you.
VOTING
There are (6) incumbents, (4) members re-offering, resulting in (6) positions in total open to fill. Members can head to the following website link to review the list of candidates and their bios and place their SIX votes now:
http://www.cbmic.ca/agm-voting
Once the newly elected board members are confirmed, the official 2021 Board and their positions will be announced and will be posted on the CBMIC web page www.cbmic.ca and CBMIC Facebook page.
AGM
Due to gathering restrictions, the AGM will be hosted via Zoom. Details will be provided closer to the date.
AGM Agenda Considerations:
Minutes of preceding general meeting;
Consideration of the annual report of the Directors;
Consideration of the financial statements, including balance sheet and operating statement
Election of Directors for the ensuing year;
Appointment of Executive
TIMELINE
Call for Nominations: Thursday, June 17th, 2021
Nominations Close: Thursday, June 24th, 2021 at 5:00 pm AT
Candidates Notified: Friday, June 25th, 2021
Deadline for Candidates Right to Withdraw: Monday, June 28th, 2021
Voting Opens: Tuesday, June 29th, 2021
Voting Closes: Tuesday, July 6th, 2021 at 5:00 pm
AGM Meeting: Tuesday, July 6th, 2021 6:00 pm
New Board of Directors announced: July 7th, 2021
Questions can be directed to admin@cbmic.ca. Thank you for your participation!
– The CBMIC Team